Jack Purcell, legendary national badminton champion was born and raised in Guelph. He was known for hitting birdies, but also designed a shoe for badminton. 
The shoe design was bought by Converse in 1975 and is still in production today.
The low-profile Purcell Converse shoes may not be as popularized as the Chuck Taylor All-Star, but celebrities like The Beatles' George Harrison, James Dean, Steve McQueen, Elvis Presley and Kurt Cobain have donned the shoe. 
Purcell was born in Guelph on December 24, 1903. Purcell lived on McTague Street in the Exhibition Park area in 1911 with his parents James and Margaret Purcell, brother Gerald and grandmother Robena Tilt.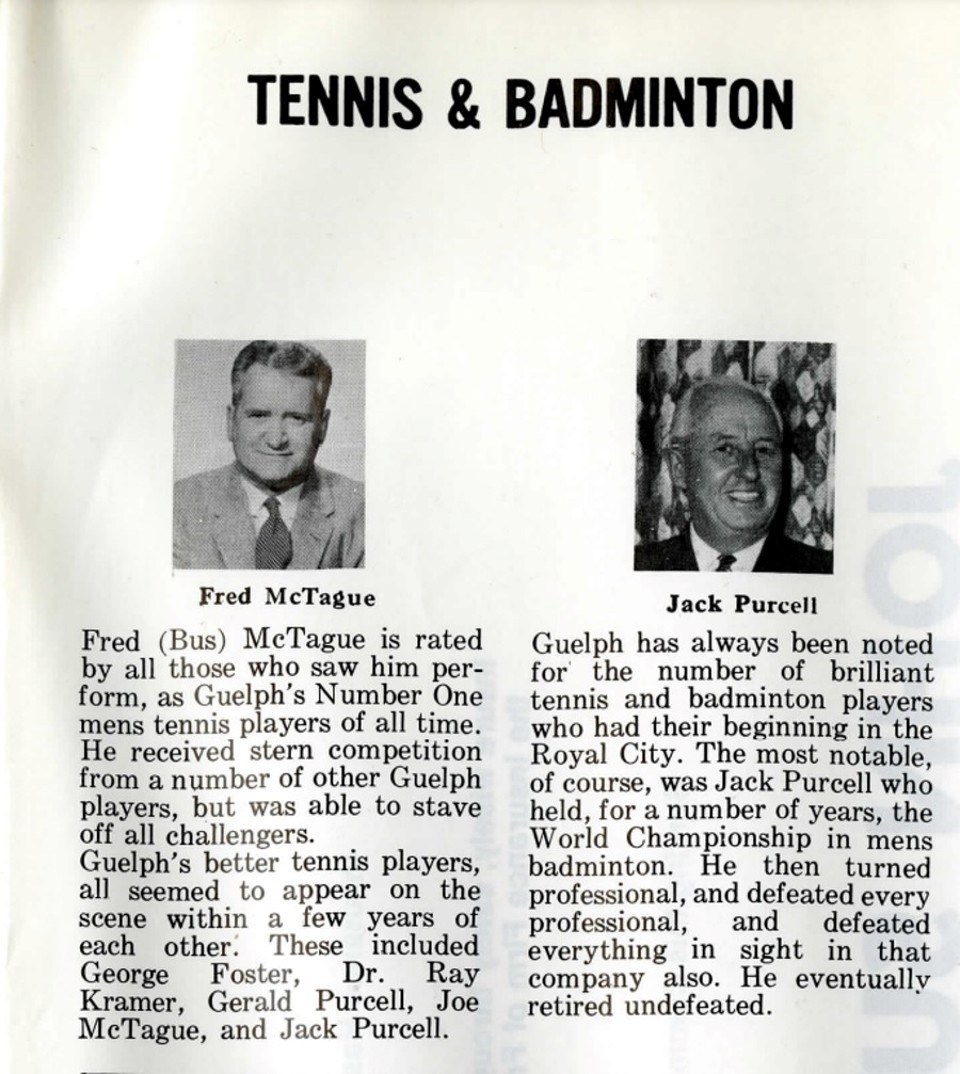 He started playing badminton in 1924 at the age of 21. 
By 1929 he was the Canadian National Badminton Champion. He was undefeated in national singles. In the same year he wrote a weekly instructional badminton column for the Star Weekly magazine.
He was no longer considered an amateur player by the Canadian Badminton Association in 1931.
"Suddenly to find myself barred from amateur competition just as my enthusiasm for the game had reached its height and I had visioned myself as carrying Canada's colors to victory in the classic event of the badminton world, was a stunning blow," Purcell wrote in a Maclean's magazine issue from Mar. 1, 1935.
Purcell left for England to play professionally and continued to win.
"Until recently the newspapers, engrossed with older sports, paid little attention to badminton. Only within the past two years did it break into radio, when play-by-play accounts of important championship matches were broadcast direct from the courts," Purcell continued in the Maclean's article.
From 1933 to 1945 he was the World Professional Badminton Champion.
"Deception in attack has been my strong point, and whereas in baseball the hitter tries to 'put 'em where they ain't,' I try to hit them where I'm not looking," said Purcell in an archived post on the Canada's Sports Hall of Fame website.
Purcell was inducted into the Canada's Sports Hall of Fame in 1955. He is also in the Badminton Ontario Hall of Fame. Badminton Canada will add Purcell to their hall of fame sometime this year.
He was sometimes referred to as the Babe Ruth of badminton.
"His notoriety was not widely known," said Jeff Millard, president of the badminton club at the Guelph Wellington Seniors Association. 
"Because of how our history unfolded, the sport of badminton is just not as popular as it should be. And even with a world champion, who was world champion several times, it just didn't stick," said Millard.
Badminton is an inexpensive grassroots sport and it used to be an elitist sport, he said.
Millard said Purcell was way ahead of his time and back when Millard started playing badminton in 1980 it was difficult to find decent coaching in the city.
The game of badminton is in dire straits. There are not enough facilities in Guelph to house the game or tournaments, said Millard.
"If you watch, you know, high level badminton games, it'll blow your mind, you won't believe what you're seeing. It's just such a phenomenal athletically demanding sport. People have no clue," he said.
"I think he was a superb athlete," said Millard. "Sometimes you get that extra special person with that agility that's a hair better and the quickness of mind a hair faster. I think it's that kind of perfect storm situation where he had all the tools."
"If you have a properly designed shoe, what that brings to the game and how it lifts or elevates your ability to get better or do better," said Millard.
In 1935 he coined the racket ball rubber sole shoe design for rubber company B.F. Goodrich's P.F. Flyers shoe brand.
Converse acquired the trademark shoe design in 1975 and have been making them ever since.
Although the cutting edge, flat, rubber sole, canvas, racket ball shoes were made for the game, they were later popularized as a casual everyday shoe. It's recognizable by the unmistakable "smile" on the toe cap of the shoe.
You can find newer versions of the shoe online through Converse. There are also pages of very worn vintage Jack Purcell's on Ebay with the original shoe box.
The most expensive listing for mint condition vintage Purcell's has a starting bid of $2,700 USD on Ebay.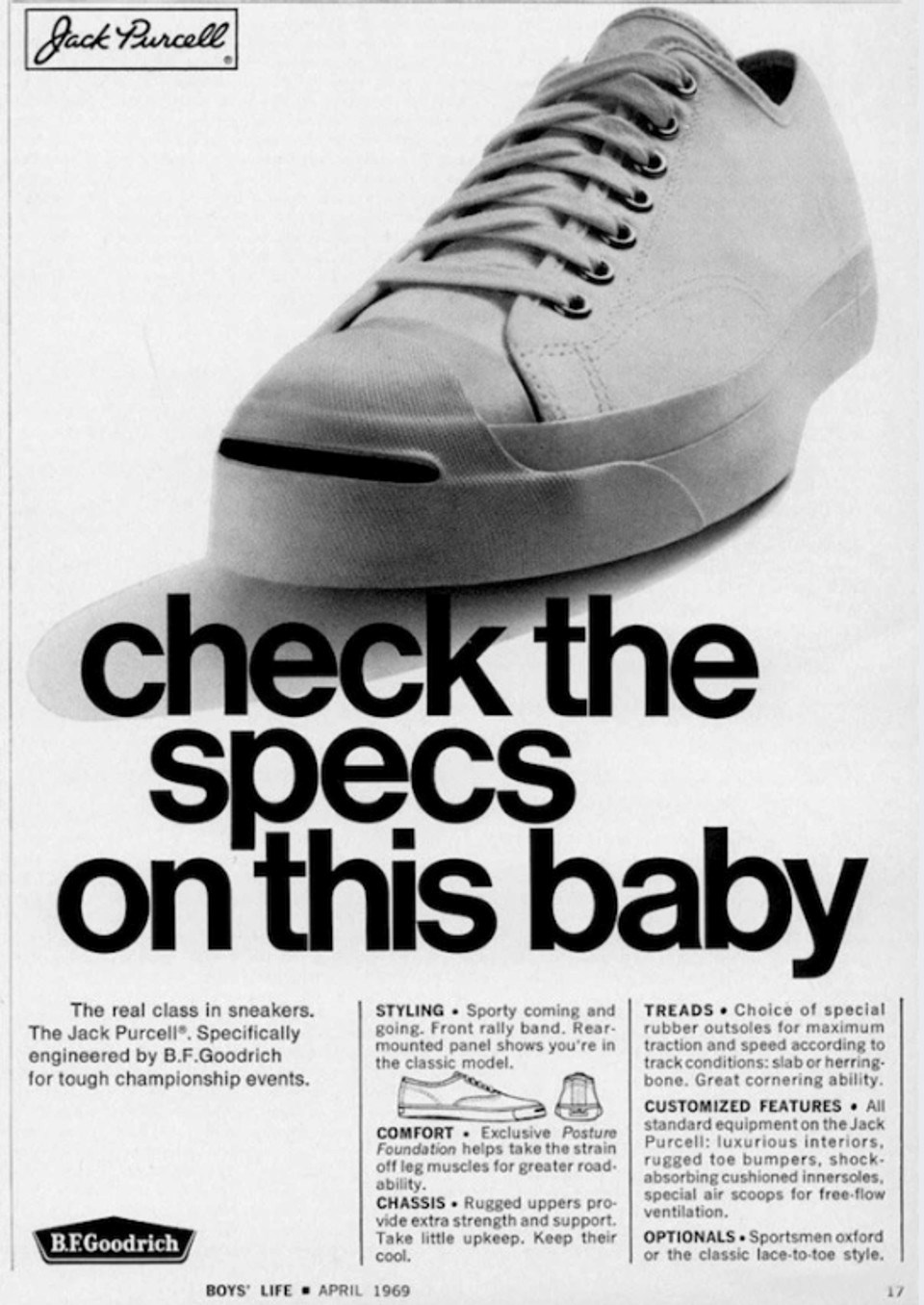 The collaboration between B.F. Goodrich and Purcell is what Elizabeth Semmelhack, director and senior curator at the Bata Shoe Museum, deems the first commercialized collaboration.
In the 30s the Great Depression made things difficult, companies needed to leverage.
"B.F. Goodrich really publicizes that he's going to be adding his two cents to the design of their new Jack Purcell sneaker," said Semmelhack.
Purcells were a hit, a non-gendered sneaker and when the 50s and 60s arrived the shoe was associated with young collegiate, affluent men.
The 70s sweep in and sneakers in general undergo a transformation, said Semmelhack.
"I think it's interesting that they have the opportunity to buy the Purcell and add it to their roster because it speaks a similar language, visually to the All-Star," she said. 
Purcell's signature doesn't appear on the sole of the shoe until 1939 and the license plate, the black square on the heel with his name on it doesn't appear until the 50s, Semmelhack said.
The marketing tactic of Chuck Taylor and Jack Purcell shoes were similar. "I think it's just an evolution of what people are interested in purchasing and the idea of having a personality associated with the design of the shoe, the shoe itself," said Semmelhack.
Sneaker collaborations between high status athletes is the norm today. From basketball player Michael Jordan and the Air Jordan 1. Basketball player Charles Barkley and the Nike Air Max CB34. Lebron James' Nike Air Max LeBron VII and the Nike Air Swoopes named after Sheryl Swoopes.
The Purcell's today are not too expensive ranging from $65 to $85 CAD. They weren't extravagantly priced back when they were first produced either. 
"In particular, in the United States, as people were being laid off, and there's less hours to work, the U.S. sort of reframed this extra time as the new leisure," said Semmelhack.
There was promotion of going to public parks and using public tennis courts to deal with the free time they had, she said.
"The Jack Purcell's coming out in '33, it's the height of the Great Depression. It continues to be popular throughout the 30s, the war hits and then in the immediate post-war period the Jack Purcell is taken up again, but now associated as a lifestyle shoe with a kind of tennis or tennis club association. You can see how easily it segues from fitness to fashion," said Semmelhack.
During World War II his career in badminton slowed down since it was difficult to acquire badminton racquets and birds, according to a biography from Badminton Ontario. He retired from the sport as an undefeated champion. Purcell became a stockbroker and member of the Toronto Stock Exchange.

https://www.guelphtoday.com/local-news/guelph-badminton-champion-purcell-was-also-quite-a-shoe-designer-5937536