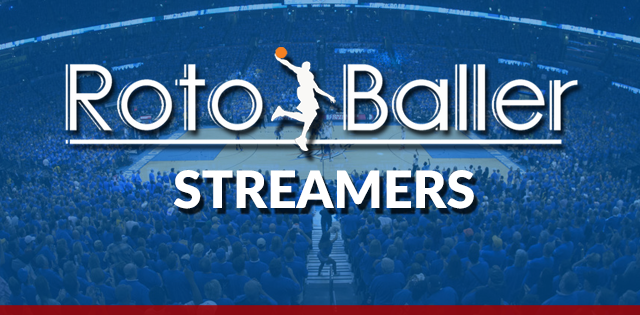 It's a lighter week in the NBA this week, with a whole bunch of teams only playing two games this week. So maximizing your daily games has been more important than ever. There are only two games tonight and no teams play any back-to-backs this week, so we are looking for anyone who can give us two games between today and Sunday.
Most leagues, however, limit how many player adds you can make each week in daily leagues. If your league only allows three moves per week, you need to be very efficient with your moves and grab players who will help you maximize your games played and help you win an extra category or two of counting stats.
The goal of this article each Thursday morning will be to help you plan out your roster moves for the remainder of the week. By this point of the week, you should start to get an idea of what categories you may need help with and where your weekly opponent is the strongest and weakest (in H2H formats). If you're playing roto, you don't have to gameplan quite as much, but you'll still want to maximize the stats your team can accumulate during the week. All the rostered percentages used in this article are from Yahoo. Let's see who can help us finish the week strong.
Featured Promo: Get any full-season NBA Premium Pass for 50% off. Win big with our exclusive DFS lineup tools, matchup rating projections, powerful Research Station, Lineup Optimizer, daily DFS lineup picks/cheat sheets and more!
Sign Up Now!
Weekly Schedule: Thursday to Sunday
Teams that play only one game (AVOID): Atlanta, Dallas, Detroit, Houston, Indiana, Miami, Sacramento
Teams that play three games (TARGET): NONE
Only teams playing Thursday: Orlando, Golden State, OKC, Denver
Teams that play Saturday AND Sunday: NONE
Shallow League Streaming Options
Marcus Morris Sr. – PF, C (39%)
Morris is one of the most added players in the last 24 hours. He missed a few games last week but has since returned and been very productive for a Clipper team that has been without Kawhi Leonard and several other members of their rotation. He finished last night's win against Houston with 21 points and 10 boards while hitting 4 long balls. This rotation is going to be messy when all the Clippers are healthy at the same time, but there's no reason why Morris should be on the wire in the short term.
Lonnie Walker IV – SG/SF (39%)
The former Spurs guard has been a steady starter this year for the Lakers and poured in 28 points last night including five three-pointers. He seems to have been able to lock up consistent minutes and looks like he could keep his starting gig for the foreseeable future. On top of the 16-3-3 average, he is also providing over 1.0 steals and blocks so far. He should be far more widely rostered than he currently is and plays Friday and Sunday this week yet. Go grab him now before others realize just how good he's been.
Grant Williams – SF/PF (31%)
Williams is an underrated fantasy player and has been really darn good this year (63rd on the Yahoo player rater – probably not THAT good). He doesn't put up volume stats, but his efficiency has been impressive. He's scoring around 10 points per night in his 25-minute bench role while shooting 63% from the floor and adding 2.0 threes. He will never sustain that FG%, but it shows you that other than the threes he attempts, most of his scoring comes from high-percentage shots or free throws. He's chipping in 5 boards a night, .5 steals, and 1.0 blocks, too, while only adding .3 turnovers. He's a perfect example of a guy who you can roster who will only help and not hurt your team in H2H category leagues.
Aleksej Pokusevski – SF/PF/C (28%)
I mentioned Poku earlier in the week as a specialist for blocks and he promptly went out and got two steals and three blocks on Tuesday night against Orlando. He finished that game with 31 minutes despite coming off the bench and his strong play is forcing his coach to increase his minutes. The Thunder gets Denver tonight and then the Bucks on Saturday, two pretty tough match-ups but Poku definitely feels like a strong add right now in the hopes that he can continue to give OKC some rim protection and valuable minutes on the interior, a position they are badly lacking in production this year.
Deep Leagues Streaming Options
Cameron Payne – PG/SG (8%)
I am purely speculating here, but it seems quite possible that Chris Paul could sit out one of the games on Friday or Saturday against Portland given that he's 100 years old, hasn't missed a game yet, and the Suns have yet to play any back-to-backs yet this year. If that were the case, Payne would be in line for a start and he's been known to explode in those spot starts in the past as we know how solid he is on a per-minute basis as a fantasy contributor. Right now, he's producing 1.3 threes and 1.1 steals in only 16 minutes of playing time per night. In a game where he played around 32 minutes as a starter, he would project for 18-4-4 with 2.6 threes and 2.2 steals and that would be a huge boon to your team.
Zach Collins – PF/C (12%)
The Spurs have been ravaged by injuries and as a result, they put one of the saddest excuses for a team out on the court last night and were promptly demolished 149-100 by Toronto. Collins still had a solid game by his standards, however, posting 8 points, 8 boards, and 3 assists, to go along with a steal and a block. He's now played 23 and 24 minutes in his last two. If Keldon Johnson and Devin Vassell continue to miss games this weekend, Collins and several other Spurs should be on our radar.
Bruce Brown – SF/PF (26%)
Brown has been functioning as the sixth man in Denver when the rest of their lineup is healthy and can occasionally move into the starting lineup. His stats don't jump off the page, but 10-3-3 with 1.6 threes and a few defensive stats on 50% shooting ain't bad. He's a lot like Grant Williams in that he doesn't shoot all that often and is efficient at hitting corner threes while chipping in some counting stats. With only four teams playing tonight, our options are fairly limited.
Darius Bazley – SF/PF (16%)
Bazley is going to be inconsistent this year due to the number of bodies that OKC seems to want to throw out there any given night. But we know what he can do when he does get minutes and his 1.4 blocks per game in only 18 minutes nightly certainly has my attention. He's really only streamable in deeper leagues now that the Thunder have Giddey back in the lineup, but we know they could choose to randomly rest guys any given night, too, as they are clearly interested in tanking this year.
Specialist Streaming Options
THREES
Tre Mann – PG/SG (28%)
He's going to have a hard time staying on rosters in shallow leagues when OKC is healthy, but Mann still played 26 minutes off the bench in Josh Giddey's first game back and poured in 13 points with two threes. He's averaging 1.7 on the season and isn't shy about firing up shots, especially if he's coming off the bench and has his minutes staggered with usage hog Shai Gilgeous-Alexander. Give him a look for tonight's game against Denver and then Saturday night against the Bucks, a team that has been known to allow a lot of made threes to opponents.
STEALS
JaMychal Green – PF/C (4%)
Jay-Mike has been a really solid player for the Warriors off the bench this year and not too many people have noticed apparently. The big issue here is the lack of minutes and the depth of their rotation, but in deeper formats, Green is absolutely streamable. In 18 minutes a night, he's giving you 5 points and 5 boards with an elite 1.3 steals and .5 blocks. He even chips in .4 threes as well. He's bounced around a lot in his career but has really found his niche as a versatile bench big man who can be really good in short stints. Give him a look here as the Warriors get a great match-up with Orlando tonight and then play the Pelicans on Friday.
BLOCKS
Jock Landale – C (17%)
The Suns have a back-to-back set with Portland on Friday and Saturday, giving Landale some streamer appeal here as you can get two games from him and still dump him for someone on Sunday if you need to. He and Bismack Biyombo are splitting the minutes at the center position for Phoenix until Deandre Ayton gets back and trading good nights. But Landale has five blocks in his last four games and you'd have to think that Phoenix will need to play a conventional center most of the games against Portland to match up with the size of Jusuf Nurkic. Give him a look in deeper leagues.
Download Our Free News & Alerts Mobile App
Like what you see? Download our updated fantasy basketball mobile app for iPhone and Android with 24×7 player news, injury alerts, lineup notifications & DFS articles. All free!
More Fantasy Basketball Analysis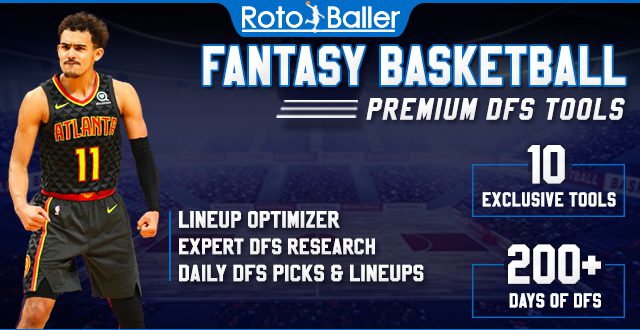 https://www.rotoballer.com/mid-week-fantasy-basketball-category-streamers-for-week-3/1092139